By Christine
The CFA exam is relatively affordable (especially when you compare it to an MBA), but still can be pricey.
And a major source of that cost comes from prep materials. If you're studying from something other than your standard-issue CFA Institute curriculum, you'll have to get that separately, at a pretty penny.
To help readers out, we've had an Offers section since the early days of the site. This section lists useful CFA offers and discounts that readers could make the most of if they were looking at materials.
More than 100,000 readers helped through our Offers page so far.
More than 100,000 readers have used our Offers page to save them some money during their CFA exam prep. We'll continue to work on getting more discounts, so always remember to check for offers before slapping down some cash for CFA goodies!
We usually have more than 10 offers active at any given time specifically for the CFA exams. To view the latest offers, just head over to our Offers Page now.
Something on discount? Freebie? Trial? We'll highlight that for you.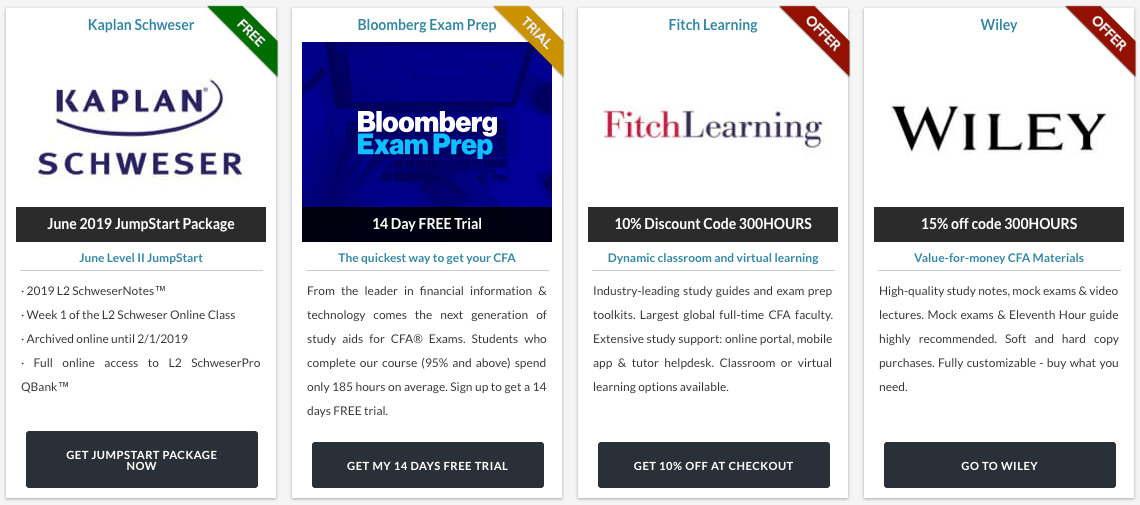 To keep things visually in order, we've also introduced a corner banner that indicates the type of offer:
Green: A freebie, no strings attached. You may need to register at the providers website, but that is a small price to pay.
Gold: A free trial – you'll have to pay to continue after a trial period.
Red: A straight-up discount off the usual provider's prices. If you're considering this provider, make sure you make the most of it!
Sometimes the offer is automatically valid if you click through the Offers page, and sometimes it's a code you use. Be sure to check and use it as directed to get your discounts and freebies!
Mouse-over for more details.

To keep things visual, yet keep all details of the offer, our listings are also interactive. You can mouse-over any offer to see more details about it.
Other offers also available, including careers, CAIA, FRM.
In addition to CFA materials, we will also look at other useful products that might help a typical CFA candidate. For example, career advice is popular here and in our Forum, so career guides are also part of our Offers section. We also regularly feature CAIA and FRM offers so you can benefit from that too!
The Offers page will constantly be updated.
We will constantly work on keeping the Offers page updated with useful information, offers and discounts for you. If you have any feedback, just write in the comments below!
What do you think of the Offers page? While we're always trying to get more and better deals for readers, is there any other improvements you'd like to suggest? Let us know in the comments below!