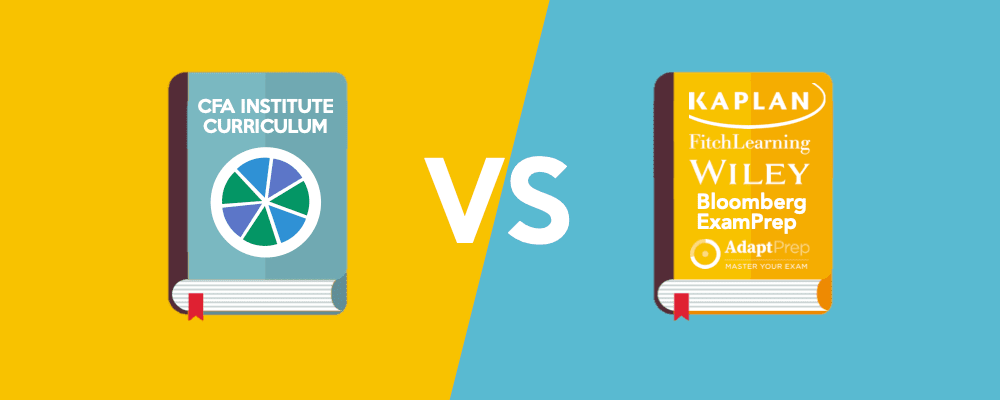 Overall, the curriculum books are useful but also an incomplete source of practice questions.  These books were written at a moment in time several years ago.  With each passing year, the CFA exam test writers create a new exam that will
fail roughly 2/3rds of candidates
.  To accomplish this, they will not use the same questions as last year, never mind 8 years ago from the books.  There might be a few questions that are similar to the end-of-chapter problems.  But, ultimately, the exam questions are 100% rewritten and replaced each year, while the books see rare and piecemeal updates.
Conversely, third party study providers update their question banks each year with new tricks, gotchas, and pitfalls from the most recent exam.  No, the questions won't match the last actual exam (this would be a severe violation of the CFA Program ethics rules).  But, study providers' question banks tend to be fresher and more aligned with the difficulty of the real exam.
Level I – Go heavy on 3rd Party QBank
I only cracked the CFA Institute books one time in Level I, and then quickly put them away for good.  From that moment forward, I relied exclusively on third party providers to study for Level I.  I passed in the top percentile in every topic, so I believe that this strategy worked well.
The curriculum books' end-of-chapter problems weren't poorly written or useless.  It's just that there weren't enough questions.  Level I is all about practice and repetition.  I drilled practice questions before work, during lunch, after work, on weekends, all the time.  The end-of-chapter problems were simply too few and far between.  I needed more.  Literally thousands more.
So, I turned to third party providers instead.  They really hit the mark with quality questions that taught me to avoid traps that I eventually saw on the real exam.  Using these question banks, I became so good at spotting trick answers that I could foresee them before I even finished reading a question.  You can, too.
I really wouldn't stress too much about which provider to choose either – I imagine that they pay for access to each other's sites, which might explain why they have similar sounding questions.   I would, however, look for a provider that offers at least 3,000 practice questions in Level I.  Again, practice, practice, practice.
Level II – Mix of Curriculum Questions and 3rd Party QBank
Level II is a different ballgame due to the vignette question structure.  Basically, the Level II exam presents a short "story" that might be a page or two in length, followed by six questions about the material you just read.  To get accustomed to this new structure, I suggest using a mix of end-of-chapter problems and third party providers.
I wish I could go back and give myself this advice.  Instead, I repeated the same strategy at Level II that worked so well for me in Level I: I did not open a CFA Institute book in Level II.  Big mistake.  I still passed on my first try, but not by much.  And it was a constant struggle.  Looking back, I would have mixed the end-of-chapter questions with my study providers' questions to ensure complete coverage and comfort with the vignette test structure.
Level III – Go heavy on Curriculum Questions
Well, I learned from my mistakes and used the curriculum books extensively in Level III.  This prepared me well for both the essay and multiple-choice questions.
In Level III, the same rules apply as previous Levels.  Namely, we must practice, practice, practice.  For the essay questions, the curriculum books tend to have far-ranging, challenging essay questions that will test your will, stamina, and knowledge – exactly what you want a practice question to do.  As a complement, study providers help you to learn the new tricks that might have shown up on recent Level III exams (remember, the online question banks are fresher).
Meanwhile, don't forget about the other half of the Level III exam: multiple choice questions.  Your third party provider is a great source for drilling Level III multiple-choice questions.  I managed to pass this exam on my first try, too, but those multiple choice questions gave me a run for my money.  They were actually more difficult than the essays.
No Matter What, Practice!
Practicing is the key to a passing score on the CFA exams.  Whatever tools and sources you use, practice as much as you can.  It's worth it!  Just keep your eye on the prize, and keep practicing.