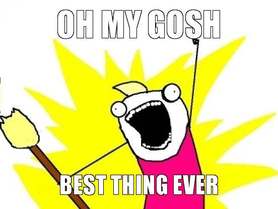 By Sophie
Given our new "View All Articles" section, the 300 Hours team have been doing quite some reorganisation to the website to make sure older posts are easier to find and more accessible.
Going through them for the past month, I thought I'd share my favourite compilation of posts that are super useful for your CFA studies, with a little caveat – I can only select 3 per category. Not easy nor clearcut given all the awesome blog posts we have so far, but nevertheless a good start to get the ball rolling to see what your thoughts are. So here goes!
The Fun Stuff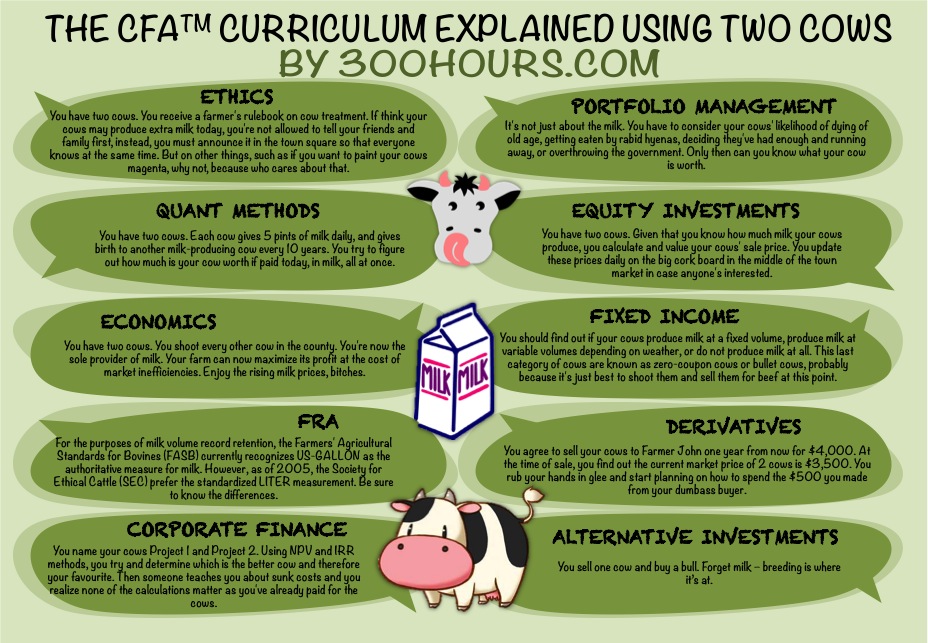 "
The CFA Curriculum, As Explained by Two Cows
" is by far my favourite fun post. It's just a light hearted approach to look at the topics and concepts you've the grasp, and very useful if you have to explain to your family/friends/partner what you're sacrificing your weekends for.
That said, "Sh*t People Say (to CFA Candidates)" comes as a close second, and gives you a warm fuzzy feeling to know that you're not the only one feeling slightly frustrated when the rest of the world don't get what you're up to during revision.
Finally, "15 Things We Love to Hate about CFA Exams" summarises perfectly how we all feel in the midst of our endless revision sessions.
---
Why the CFA Designation?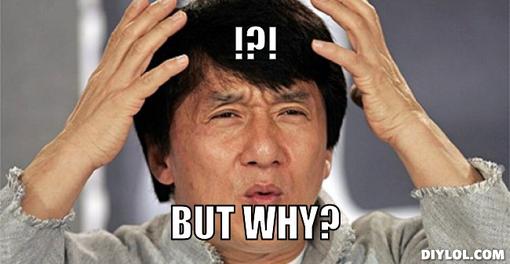 Deciding on whether to take on the CFA exams is a very personalised decision, as it depends on your career objective and also what you'd like to achieve with it.
However, I found these 3 posts instrumental in helping potential candidates to find the right answer:
---
CFA Exam Insights & Study Tips
CFA war stories are always a good read (here are mine for
CFA Level 1
,
Level 2
and
Level 3
), but if I had to choose only 3 posts (God, it's so hard) that helps you form the best strategy to ace the exams, they would be:
CFA Results Analysis – A tool I wished I had when I took the CFA exams 5 years ago. I went in blind without any preparation or inside knowledge of where candidates tend to stumble, and had to do it the hard way. You now have a little nice report that tells you all the pitfalls and how to prepare for them for the CFA exams, this $15 is the best return for your investment. Ever. And I'm not just saying that just because it's done by 300 Hours team, we decided to do this extensive report so that you don't fight the exam in the dark.
Tailor make your own study plan for FREE – The easiest way to keep track of your studies and create a plan that suits your time and obligation while making sure you have sufficient time to complete your studies and do your practice exams. This 300 Hours study plan tool, inspired by our helpful community member @Dan.
The-last-month-before-exams grand plan – In your CFA exam preparations, the last month prior to the exams are crucial, if not the most important. Here's where you've finished studying the materials and are dedicating this last month to practice exams and final revision. We tell you what you should be doing here to maximise your pass rates.
---
Career Development
Most of us take on the CFA exams to broaden our career opportunities and increase knowledge in finance.
What is your favourite 300 Hours post so far? Share your thoughts with the community in the comments below.