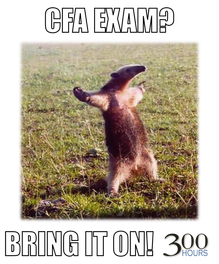 Note: Congrats to all who took the exam this weekend! Enjoy your time off, and remember to check back to get your instant results analytics on results day!
Isn't this anteater awesome?
If you've had a look at pictures of some of our previous posts, you'll know that we're a fan of memes and cartoons. And this pic of what is unquestionably the awesomest anteater in the history of anteating, is a perfect embodiment of CFA preparation.
It's the ultimate symbol of infinite courage and defiance in the face of a monumental task. Climb Mount Everest? Stop a speeding train with my bare hands? CFA exams? BRING IT ON!
We love this so much that we've designed a mug with this caption on it, and we're giving it away to the reader that submits his/her best exam experience story.
We've previously featured notable exam experiences – candidates
losing their exam tickets inside their car door
to
candidates fainting dead away
. But we know there are loads of other awesome ones.
If you're keen to share your own exam experiences, do send it in to team@300hours.com! At the end of the week we will pick the best stories to receive a coffee mug as below (click for larger picture), delivered anywhere in the world. Of course this features the awesome anteater, an illuminating example of the spirit of CFA preparation (seriously, we think the design is hilarious and awesome, but we could we weird that way).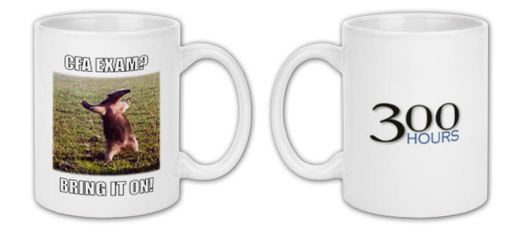 And yes, we know about
the sink story
already. 🙂 We're looking forward to reading your experiences!