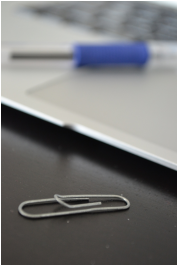 By Zee
I have on my desk, right now, a simple and rather tarnished paper clip.
It's not very remarkable thing. A standard-issue paper clip, about an inch long or so. Yet this paper clip has accompanied me through my life's struggles for 13 years now. 13 years, I've kept this paper clip. If the paper clip was a person, it'd be shutting itself in its room, calling me a turd and listening to emo music.
In the last 13 years of my life, I can say I'm proud of some of my achievements. I'd like to share the story of how this tiny paper clip inspired and pushed me to achieve some of the harder things in my life.
The best way to start is to explain how this paper clip came into my possession.
I grew up outside of the UK, in a place where education wasn't exactly the forefront of society's priorities. I studied hard in school and got good grades, but to be honest my academic trajectory wasn't particularly outstanding. I would probably graduate with good grades, probably settle with a good job, and plod through life with little fuss. My path changed when I was about 17 or so, when I got a letter that would change my life.
And this paper clip was in that letter.
That letter, was the letter of admission into a pretty good university in the UK. So good that without support from some very ambitious friends I wouldn't have even bothered applying to. To be honest I couldn't even afford full fees (about £13,000 per year or so at the time). I made that work in the end, but that's another story. The requirement for admission was a minimum of three A-stars in my A-levels. I ain't gonna lie – that was a tall order for me.
I then did something that probably helped me in every single subsequent academic or career struggle I had in my life.
I took the paper clip that held my acceptance letters together, and pegged it to my study lamp.
I then told myself – if I didn't give this opportunity everything I had, that will be the last thing I would be getting from it.
That paper clip accompanied me for the next year, pushing me on with my studies, and I made the grade to start my degree in the UK. When I went to university, the paper clip travelled with me, and stood on my desk lamp again for the next 4 years.
And the next 8 years of my career.
It sits here now, next to my laptop, reminding me that a simple paper clip is all it takes to focus your mental willpower, as a symbol of the capacity to believe in yourself, which is all it takes in many seemingly impossible life challenges.
You either work hard for it and get it, or you don't. There is no consolation prize. That's what the paper clip taught me.
That helped me retake and finally conquer the CFA exams.
That helped me through three career switches and job-search processes – an endless cycle of CV crafting, interviews and networking.
That helped me learn to believe in the end goal, no matter how frustrated you are during the journey.
I'd really like to know what you think in the comments below.